Some progress has been made on the IBM ThinkCentre 8198 PC.
When I recently pulled the PC out of storage, it would not power on. At first I thought just the PSU (HIPRO HP-A2307F3P / IBM FRU 74P4300) was defective, since the PC would power on when connected to a modern Corsair PSU. However, the issue was a bit more complex.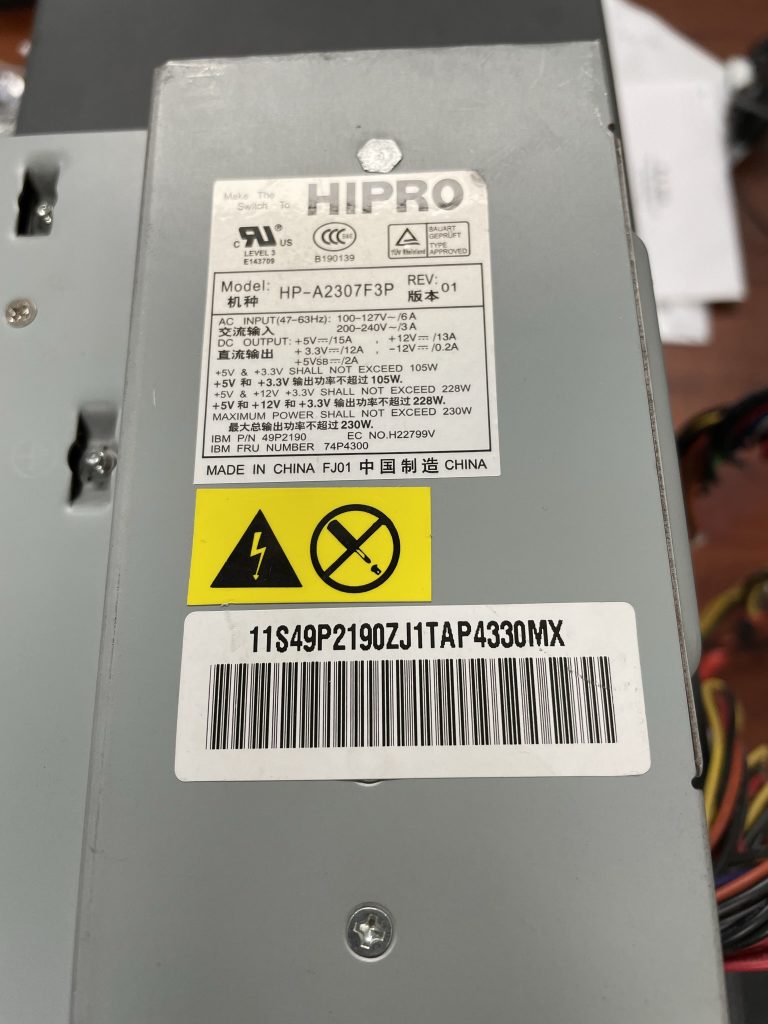 After some initial troubleshooting in the electronics lab, we: 1) replaced large capacitors in the PSU to improve ripple which was slightly out-of-spec, and 2) determined that a bad CMOS battery on the motherboard was causing failure to power-on:
The CMOS battery on the board is dead, so none of the BIOS settings are ever saved. There is a setting that dictates what the system does if power is lost, and the default setting is "last state" and for whatever reason, the default "last state" is "power on after power loss." So as soon as power is applied, the motherboard tells the power supply to activate due to that setting. I put in an old, but still working, battery and then changed the setting and saved it. Now when you plug in the power supply, the fans do spin for about half a second, and then shut off (which is normal I think). If you press the power button, it turns on and POSTs normally now.
These Hipro power supplies need a small amount of time after AC power is applied before they are ready to start. I think when the motherboard was trying to start instantaneously, it detected low or unstable voltages from the power supply and then prevented the system from POSTing. I tested this by applying AC power to the power supply, and then "hot plugging" the ATX connector into the motherboard about a second later– it turned on and POSTed just fine.
So, now that the system is powering on and stable with original PSU, I am going to get it cleaned up and installed with Windows XP.
In searching for a BIOS update, I figured out that this computer is a model ThinkCentre A30, even though A30 isn't printed on the case itself. Fortunately, old drivers and BIOS updates are still available from https://download.lenovo.com/eol/index.html
In classic IBM fashion, the BIOS versions are not simple. This PC currently has BIOS Revision level 24KT48AUS , and the latest seems to be 24KT55A.