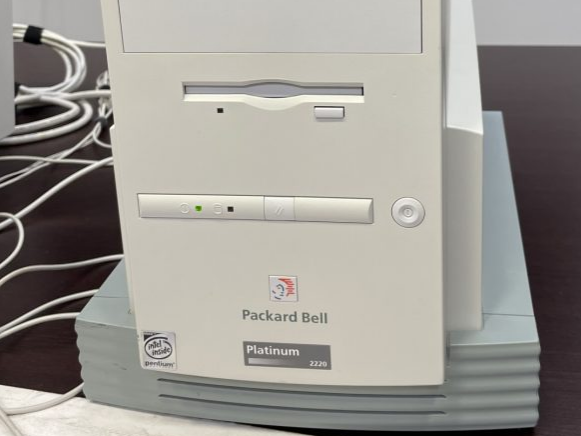 Exhibit 003
| | |
| --- | --- |
| Manufacturer | Packard Bell |
| Model | Platinum 2220 |
| Date of release | 1997 |
| Date added to collection | 2022 |
---
Quick navigation:
---
The Packard Bell Platinum series was packed with multimedia features for the ultimate home family computer. This machine sits in a 1990s golden age of home family computers, with the ease of use of Windows 95 and popularity of online services (namely AOL) with early WWW but before broadband was a concept. This particular machine is packed with multimedia features, mainly highlighted by the MediaSelect button array for volume controls, internet, shopping, etc. While this machine doesn't have the top-of-the-line TV tuner capture card option in the Platinum series, we are entertained by the functionality offered by the modem / sound card combo including voicemail and faxing.

We were lucky to find this machine in an estate sale with original keyboard, mouse, Media Select and CRT monitor with speakers. Packard Bell put in a lot of effort in bundling software to make these computers a complete experience, with their revolutionary "living room"-esque GUI option, the Packard Bell Navigator.
Date of Release: While the monitor has a 1995 date code, the Pentium 200 MMX CPU was not released until January 1997. So, this machine was likely released in early 1997.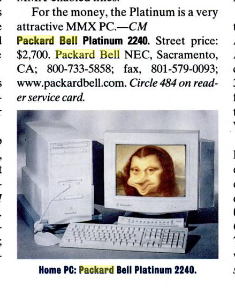 An ad for a similar system, the 2240 from PC Mag Feb 1997 which had some more RAM and a video capture card for $2700.
TODO:
Memory upgrade
Keyboard is missing one key
Fax test & demonstration video
Possible speaker debug/repair
CD-ROM drive test / repair
HWiNFO
Specifications
| | |
| --- | --- |
| CPU | Intel Pentium 200 MHz MMX (Socket 7) |
| RAM | 16 MB |
| HDD (original) | Seagate ST32132a 2.1GB (IDE) |
| FDD | 3.5″ 1.44 MB |
| Optical drive | CD-ROM 16x (IDE) |
| Video card | onboard |
| Sound card | onboard |
| Network | none |
| Display | Packard Bell SVGA 17″ Model 3020 (CRT) |
| Operating system | Microsoft Windows 95 |
Photos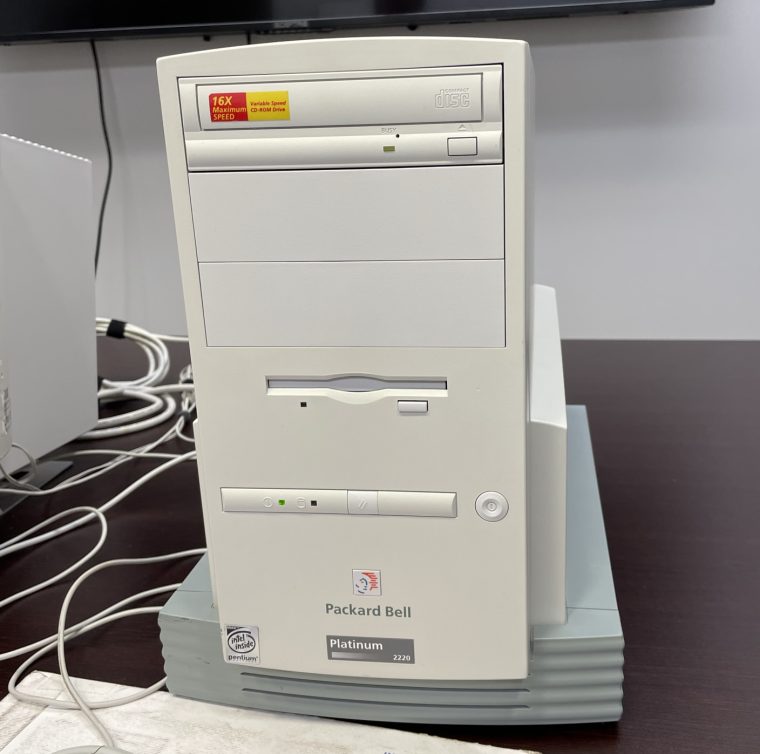 What we've done
Upgraded BIOS
Replaced original HDD with CF card
Re-installed from original PB Restore disc, along with adding generic OAKCDROM driver
Videos
Related Blog Posts