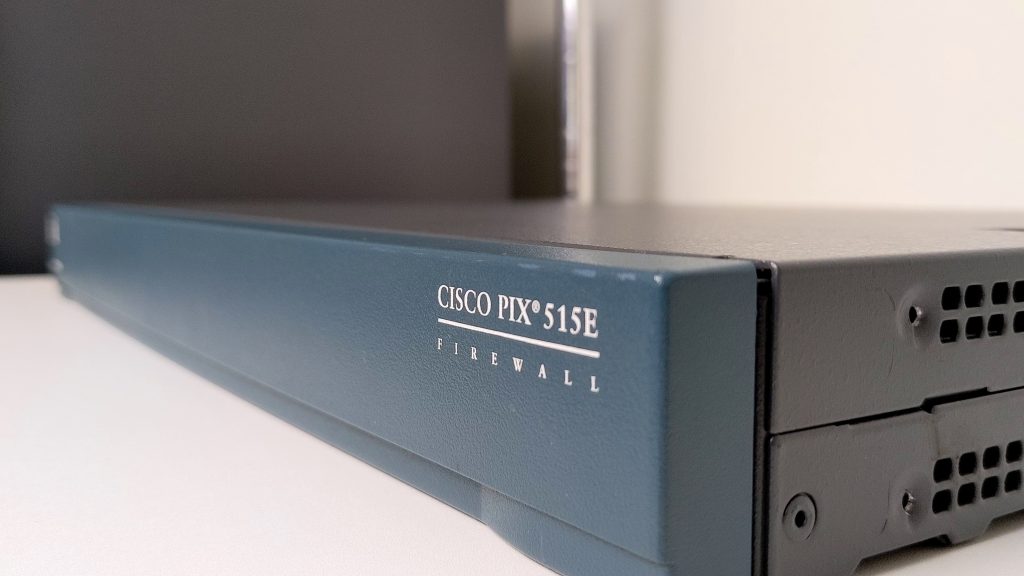 Exhibit 023
| | |
| --- | --- |
| Manufacturer | Cisco |
| Model | PIX 515E |
| Type | Firewall |
| Date of production | 2002 |
| Date added to collection | May 2023 |
---
---
The PIX 515E Firewall was one of the last PIX models produced by Cisco, capping off an incredibly successful product line that was Cisco's first entry in the security market. The PIX was originally an invention of Network Translation Inc (NTI) in 1994, and introduced the first hardware implementation of NAT (network address translation). NTI was acquired by Cisco in 1995.
The 515E is an updated model of the original 515 released in 1999. Cisco increased processing power for this updated model, and also included hardware-based VPN acceleration.
Specifications
| | |
| --- | --- |
| CPU | Intel Celeron 433 MHz |
| RAM | 32 MB |
| Storage | 16 MB Flash |
| FDD | None |
| Network Interfaces | 2x 10/100BASE-T |
| Operating system (original) | PIX OS 6.2 |
Photos

Videos
THE UNTOLD STORY: How the PIX Firewall and NAT Saved the Internet
If you've accessed the Internet in the past two decades, chances are you've done it using a technology first pioneered by the PIX. Hear the amazing story first hand from the engineers that were there making it happen.
Interactive
COMING SOON